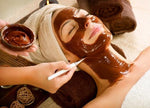 Cacao is famed throughout the world for its delicious taste and fragrant aroma. But Dark Chocolate (which is made from Cacao) is not only yummy, it's also very healthy!
At Before Chocolate, we love the indulgence of the Cacao eating ritual, but we never forget the inner joy it brings to the body, mind and skin. Although Cacao is naturally healthy, in most chocolate today the pure nutrients are processed away and many harmful ingredients are added. Our Dark Chocolate retains these nutrients and contains no unnecessary nasties or allergens. That's what makes snacking our Chocolate a truly guilt-free pleasure. In this blog we'll go through some of the many natural health benefits Dark Chocolate provides. We hope you will remember these nuggets of goodness when snacking on your next Before Chocolate treat. It will make your Chocolate eating experience all the more enjoyable!
Click on a link below to jump to that section:
Dark Chocolate Benefits for your Body
Dark Chocolate is highly nutritious and is loaded with minerals. All of our Chocolate buttons, drops and nibs contain a high percentage of Organic, Vegan and Allergen free Cacao resulting in a treat that is rich in Fibre, Iron, Magnesium, Copper and Manganese.
Energy and Vitality
Cacao is the highest plant-based source of iron in the world! Iron is required for making the red blood cells which carry oxygen around the body. A lack of iron can lead to iron deficiency anaemia, which results in tiredness and lack of energy and causes brittle hair and nails. So, if you feel energised after eating our Dark Chocolate treats, that could be the iron working its wonders!
Improved Heart Health
Magnesium is the most deficient mineral in the Western world. It supports many functions including helping with muscle and nerve function, regulating blood pressure, and supporting the immune system. The body needs magnesium to maintain healthy muscles, research has found that magnesium plays an important role in heart health. The fact that eating chocolate supports cardiovascular health makes our hearts sing!
Immunity
Although other heavy metals, like lead, mercury, and arsenic aren't good for you, copper is essential for good health. Not getting enough copper in your diet can lead to illnesses such as celiac disease, cystic fibrosis and Crohn's disease. Copper also contributes to the activation of the immune system. This makes Dark Chocolate yummy and healthy!
Bone Strength
Manganese (not to be confused with Magnesium!) plays a role in bone formation, blood clotting, reducing inflammation and many more bodily functions. Although it is a vital mineral, the human body cannot produce manganese as it must be obtained from foods that contain it (Like Dark Chocolate!) Next time you reach into your bag of Before Chocolate treats, set the intention of absorbing some of that delicious manganese!
Dark Chocolate Benefits for your Mind
Stress and Anxiety
Not only is gifting and receiving Dark Chocolate an instant pick me up, (see our delicious gifting cards), Dark Chocolate contains mood enhancing flavonoids which can enhance wellbeing. Flavonoids found in Dark Chocolate have demonstrated beneficial effects for treating Anxiety and Depression together with traditional antidepressant regimes. That's another reason to smile once our Before Chocolate treats, hit your lips. Sit back and let those flavonoids do their thing!
Dark Chocolate Benefits for your Skin
Antioxidants and SPF
As well as making you feel better, Dark Chocolate can also help you to look better! Dark Chocolate boasts lots of healthy antioxidants, (40 Times the Antioxidants of Blueberries!) These Antioxidants help protect skin against sun damage thereby reducing the roughness and scaling which occurs when your skin is exposed to UV light. We all know when you look good, you feel good. So, bring on the Cacao, and the compliments!
Supersize the Health Benefits with Superfoods
At Before Chocolate, we're passionate about harnessing the natural health benefits contained within foods. But we've not stopped at Cacao! We've developed our Super-Choc bundle by adding nutrient-dense Superfoods to our Cacao. There is so much goodness in nature, and we want to bring it all to you!
Join our Cacao Tribe
Cacao contains many more benefits that we couldn't fit into one blog. We're always learning more and sharing what we know with you.
If you'd like to discover more chocolatey fun facts and inspiration, follow us on Instagram, Facebook, and Twitter to join our Cacao Tribe!
Related Articles