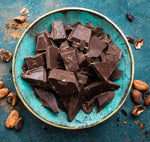 We all love Chocolate! Be it the creamy texture, aromatic fragrance, rich brown colour, or most importantly, that decedent taste that transports us to feelings of luxury and relaxation. At Before Chocolate, Chocolate is at the heart of everything we do every day. On World Chocolate Day (the 7thof July), we revel in the festivities and celebrations as the world shares in our love of Chocolate. Chocolate is an indulgent treat, but with Before Chocolate, it can be healthy too! In this blog, we'll tell you a bit about the history of Chocolate, why we love it, how Dark Chocolate can be healthy for you, AND how to celebrate World Chocolate Day with baking and gifting.
Click on a link below to jump to that section:
The History of Chocolate
So, where did this worldwide obsession with Chocolate begin? Studies show the oldest species of cacao evolved around 10 million years ago in the Andes. Experts believe South American peoples were consuming cacao, the source of Chocolate, more than 5,000 years ago. The Mayans who inhabited this region did not only share our love for that delicious chocolatey taste. Historians have proven Mayans believed cacao was the "food of the gods", and cacao featured prominently in their religious ceremonies and traditions. Chocolate arrived in Europe during the 1500s, and the rest is history. All of our Before Chocolate treats are made with Single-Origin Premium South American Cacao. So, with every mouthful of Before Chocolate buttons, drops, or nibs, you are enjoying a taste of chocolate history! 
What is Dark Chocolate?
While some may stay away from Chocolate for fear of overindulgence, Dark Chocolate can be healthy and contribute to a balanced diet. It can be difficult to navigate the difference between 'ordinary' Chocolate and the renowned Dark Chocolate. We are here to clear the confusion and make things simple. Milk Chocolate is made by combining chocolate with milk powder or condensed milk and often contains high amounts of preservatives, sugars, chemicals, and other nasties. Dark Chocolate has a higher percentage of cocoa solids than Milk Chocolate, a much lower sugar content, and fewer calories. Since Dark Chocolate is less processed, it retains more of the natural health benefits found in the cacao bean. Chocolate is considered dark when it contains over 70% cacao solids. At Before Chocolate, we believe Chocolate should be healthy and delicious all of the time! That's why all of our products are a minimum of 70% cacao. See our 70%, 90% and 100% chocolate products.
What are the benefits of Dark Chocolate?
You may still be wondering, is Dark Chocolate really good for you? Yes! Dark Chocolate is packed with powerful antioxidants and can provide several health benefits. The processing methods used to create Milk Chocolate removes many of the benefits of natural cacao while Dark Chocolate retains them.
Dark Chocolate is rich in fibre, iron, magnesium, copper, manganese and other minerals.
Dark Chocolate has a wide variety of powerful antioxidants (way more than most other foods!).
The bioactive compounds in cocoa may improve blood flow in the arteries and cause a decrease in blood pressure.
Dark Chocolate improves several important risk factors for disease and improves insulin sensitivity.
Flavanols within Dark Chocolate can improve blood flow to the skin and protect it from sun damage.
Dark Chocolate may improve brain function by increasing blood flow.
You can also super-charge your mind and body with our Super-Choc bundle! We've added nutrient-dense superfoods to South American Cacao to create sensational tastes and elevate health benefits. Try our Super-Choc bundle now so you can indulge in the really good stuff.
Our Before Chocolate promise means we are always low in sugar and high in cacao, contain no chemicals, no additives and no nasties. As well as this, all of our Before Chocolate products are vegan, organic, made in small batches and ethically sourced from local South American farmers. So, by enjoying our Chocolate you are building a healthier life for yourself, celebrating traditional cultures, supporting local growers AND the continuation of sustainable farming practices!
Ways to Celebrate World Chocolate Day
1. Eating Dark Chocolate
The easiest (and yummiest) way to celebrate World Chocolate Day is by eating Dark Chocolate! Whether you like buttons, nibs or drops, plain or flavoured, we have the treat for you. Search our bundles to find the perfect selection for you or your family to enjoy!
2. Gifting Dark Chocolate
The only thing better than eating dark Chocolate is gifting it! We've made that easy. You can order one of our gifting chocolate cards for that special someone. We will happily write a handwritten note for your recipient.
3. Baking with Dark Chocolate
Do you like to get your hands stuck in? Our Before Chocolate Baking Kit is the perfect baking companion for World Chocolate Day. This bundle is full of yummy chocolatey goodness AND provides hours of fun. You can even make your own Dark Chocolate using our Chocolate Making Bundle (perfect for getting the kids involved!).
Join our Cacao Tribe
Today Chocolate is in everything! Whether it's desserts, cakes, perfume or skincare. We even use Chocolate to describe the shade of our hair and eyes! At Before Chocolate, we make Chocolate yummy and good for you and the planet. So, you can enjoy chocolate guilt-free!
Do you want to join our yearlong chocolate celebration? Follow us on Instagram, Facebook and Twitter to join our Cacao Tribe and find more chocolatey fun facts and inspiration!
Related Articles
- The Health Benefits of Dark Chocolate